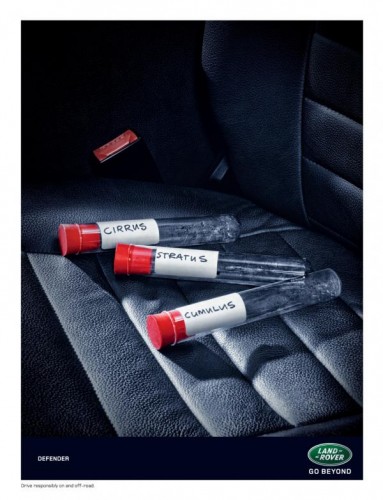 The Land Rover Defender is built for purpose and this ad from Y&R South Africa cleverly dramatises it's legendary capabilities and the extremes that they can endure. The ad also taps into the "Go Beyond" mentality of those that drive them.This ad breaks in Migrate Magazine and will be used in automotive press.
Category: Automotive
Client: Land Rover
Agency: Y&R South Africa
Country: South Africa
Executive Creative Director: graham lang
Art Director: Ishmaeel Chetty
Copywriter: Nkanyezi Masango
Copywriter: Ameer Saban
The Print Ad titled Cloud Collector was done by Y&R South Africa advertising agency for product: Land Rover Defender (brand: Land-Rover) in South Africa. It was released in the Oct 2011.