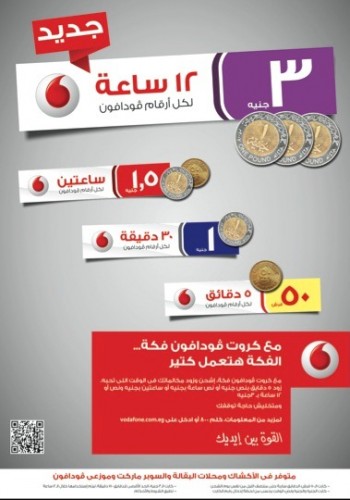 "Vodafone's latest innovation for prepaid customers puts an end to the petty cash issue in Egypt"
"JWT Cairo has worked on the newest – and most innovative – campaign for Vodafone Egypt: "Vodafone Fakka".
Fakka is in fact the Arabic word for "petty change" and Vodafone's initial idea was to launch micro recharge cards in the market. However, in a move that confirms Vodafone's market leadership and commitment to bring the latest innovations and greatest value to its customers, that initial idea was leveraged in a very innovative way to serve the consumer on yet another, totally unexplored level.
Vodafone's newest product for the prepaid customer comes in the shape of micro recharge coupons of small cash value (50 piasters, 1 Egyptian Pound, and 1.5 Egyptian Pounds). Developed by JWT Cairo the innovative part lies in leveraging two widely known "habits" of Egyptian consumers and vendors and incorporating them into the concept.
On the one hand, you have the Egyptian consumer who prefers the smallest denominator of any product. On the other, you have the vendors; mini-markets, the greengrocer, or any cashier at any outlet in Egypt – they all share the same problem: they never have enough small coins to return as change to their clients, who in turn, always end up receiving petty items instead of cash – chewing-gum, sweets, mints, or even aspirin.
In other words, "change" that goes to waste. The time had come to find useful substitutes for chewing-gum, mints and the like.
Moataz Abdel-Jalil, Head of Consumer Marketing at Vodafone, aptly points out that "This idea is introduced for the first time in Egypt, and is simply based on the insight that it is a common practice in Egypt that at small shops, stores, kiosks or pharmacies, the shop owners often offer customers products of little value to them with the remaining change.
So "Vodafone Fakka", which is available in these shops will give customers an alternative they can benefit from, instead of wasting change on items that are of little use or relevance to their needs."
Mohamed Sabry, Country Client Officer for JWT Cairo added "The project was a really great collaboration between the agency and our client, Vodafone Egypt at all levels. It resulted in an innovative new product for Vodafone Egypt, totally adapted to the local market and true to the brand. It has empowered the people of Egypt through small change."
And it is indeed a success, for Vodafone Egypt customers and shop owners alike. "People always find mobile communication to be important and will value receiving Vodafone Fakka to charge their phones and talk to friends or family", said Ahmed Fady, a shop owner in the Delta region.
"Vodafone Fakka" comes in four denominations. The first three to be launched were – the 50 piasters card which gives 5 extra minutes that expires at midnight; the EGP 1 card which gives 30 minutes that start immediately after recharging, and the third was the EGP 1.5 card which gives two hours that start immediately upon recharging.
Due to the tremendous success of the product, a fourth EGP 3 denomination was launched in September, which gives the user 12 hours of extra talking time. The minutes offered can be used to call any Vodafone number."