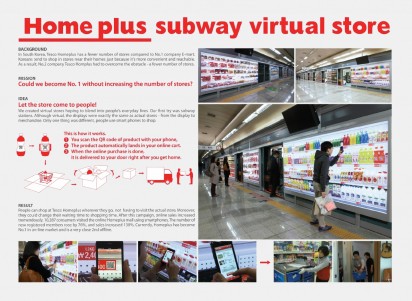 Brief: Could we become No. 1 without increasing the number of stores? We made an in-depth study into Koreans once more. Korean are the 2nd most hard-working country in the world! For them, grocery shopping once a week is a dreaded task. So we decided to approach these busy and tired people.
Creative Execution: South Korea is a unique market. Even the most powerful global corporations tend to fail miserably in the Korean market. Walmart and Carrefour had to pack up their bags and leave. On the contrary, Tesco has been evolving itself, adjusting to the local market. It even changed the name itself, from Tesco to Homeplus! And at last, it grew to rank No. 2 in Korea! But Tesco had to overcome one obstacle? A fewer number of stores compared to the number one company, E-mart.
Solution: Let the store come to people! We created virtual stores in subway station hoping to blend into people's everyday lives. Our first try was busy subway station in rush hours. Although virtual, the displays were exactly the same as actual stores – from the display to merchandises. Only one thing is different, you use smart phones to shop! Scan the QR code with your phone, and the product automatically lands in your on-line cart! When the online purchase is done, it will be delivered to your door right after you get home.
Results: People could meet Tesco Homeplus wherever they go, not having to visit the actual store. Moreover they could make good use of the wasted times and enjoy their free time. After this campaign, on-line sales increased tremendously (Nov.2010-Jan.2011). Through this campaign, 10,287 consumers visited the online Homeplus mall using smartphones. The number of new registered members rose by 76%, and on-line sales increased 130%. Currently, Homeplus has become No.1 in on-line market and is a very close 2nd offline.
Advertising Agency: Cheil Worldwide, Seoul, Korea
Executive Creative Director: Joungrack Lee
Creative Director: Youna Chung
Art Directors: Youna Chung, Youbin Bang, Yeonjoo Lee
Copywriter: Misu Yi
Photographer: Skyteam
Illustrator: Sungmin Jee
Account Manager: Joowon Han