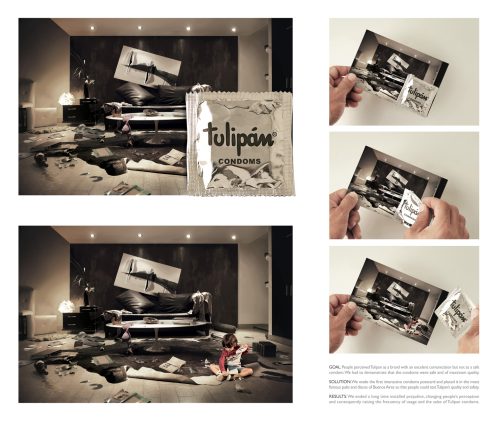 Goal: People perceived Tulipan as a brand with an excellent communication but not as a safe condom. We had to demonstrate that the condoms were safe and of maximum quality.
Solution: We made the first interactive condoms postcard and placed it in the most famous pubs and discos of Buenos Aires so that people could test Tulipan's quality and safety.
Results: We ended a long time installed prejudice, changing people's perception and consequently raising the frequency of usage and the sales of Tulipan condoms.
Advertising Agency: Young & Rubicam, Buenos Aires, Argentina
General Creative Director: Martin Mercado
Creative Directors: Martin Goldberg, Diego Tuya, Dario Rial
Art Director: Gonzalo Fernandez
Copywriter: Juan Ignacio Galardi
Retoucher: Hugo Horita
Photographer: El negro Pizzorno
Published: April 2011