Medicom Pharma: Target Heavy Food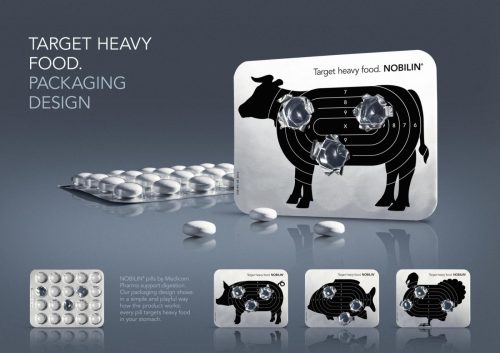 Brief Explanation:
Show The Affected People That (plant-based) Nobilin Has The Power To Aid Digestion.
Describe The Brief From The Client:
Develop A Promotional Product Design For A Special Edition Of Nobilin In Order To Raise Awareness For The Brand.
Description Of How You Arrived At The Final Design:
A Promotional Product Design That Seperates Nobilin From Other Brands At The Point Of Sale.
Indication Of How Successful The Outcome Was In The Market:
Due To Largely Positive Feedback From Both Retail Markets And Consumers, The Promotional Period Of Our Special Edition Was Successfully Extended.
Advertising Agency: BBDO, Germany
Chief Creative Officer: Jan Harbeck, David Mously, Wolfgang Schneider
Art Director: Daniel Schweinzer
Illustrator: Daniel Schweinzer
Copywriter: Lukas Liske
Junior Account Manager: Gülcan Demir