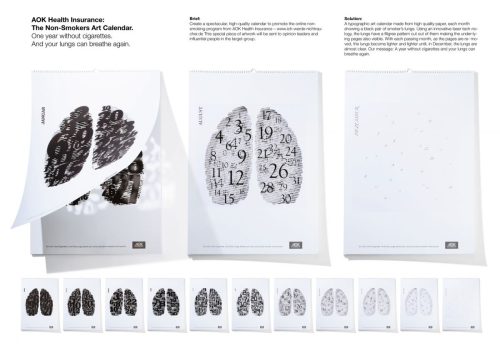 "One year without cigarettes. And your lungs can breathe again."
Brlef: Create a spectacular, high-quality calendar to promote the online non-smoking-program from AOK Health Insurance – www.lch-werde-mchtrau- cher.de This special piece of artwork will be sent to opinion leaders and influential people in the target-group.
Solution: A typographic art calendar made from high quality paper. each month showing a black pair of smokers lungs. Using an innovative laser tech-no- logy. the lungs have a filigree pattern cutout of them making the underlying pages also With each passing month, as the pages are re-mo-ved, the lungs become lighter and lighter until, in December, the lungs are almost clear. Our message: A year without cigarettes and your lungs can breathe again.
Advertising Agency: Serviceplan Health & Life, Munich, Germany
Creative Director: Mike Rogers
Art Director: Wolfgang Nagel
Copywriter: Christoph Bohlender