Unilever: Some cans leave white marks sure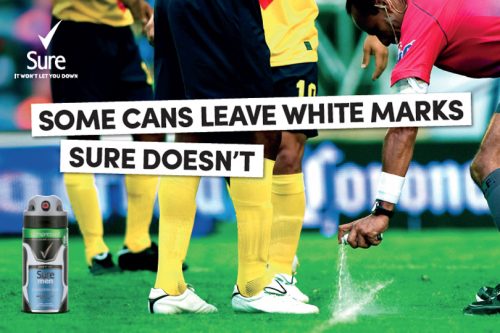 Unilever Uses World Cup Referees' White Spray to Pimp Sure Deodorant, DLKW Lowe Spots Opportunity to Talk About White Marks.
Unilever-owned deodorant brand Sure was quick to spot an opportunity for a tactical campaign in the white spray that referees have been using in the World Cup matches to draw lines on the soccer pitch. Agency DLKW Lowe created a press ad that ran in U.K. newspapers and on social media, with the words "Some Cans Leave White Marks — Sure doesn't" alongside a photo of a referee using the spray from the tournament. The spray has been something of a talking point in the U.K. media, as the World Cup has brought it to international attention. It has been used for several years by referees in Latin America, but never in the U.K.