UNICEF Bulgaria: Making the invisible visible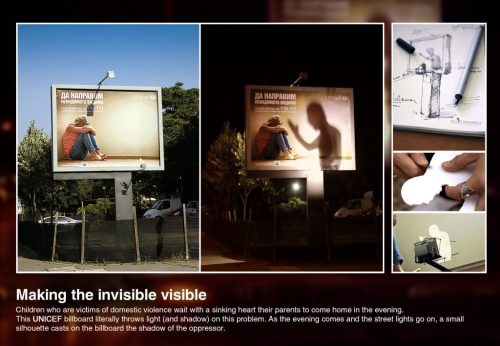 Children who are victims of domestic violence wait with a sinking heart, their parents to come home in the evening. This UNICEF billboard from All Channels Sofia literally throws the light (and shadow) on this problem. As the evening comes and the street lights go on, a small silhouette casts on the billboard the shadow of the oppressor.
Brand: Unicef
Media: Outdoor
Category: Public interest
Agency: All Channels
Geo: Bulgaria
UNICEF Bulgaria: Making the invisible visible
Advertising Agency: All Channels | Advertising, Sofia, Bulgaria
Creative Director: Marin Kostov – Muro
Art Director: Radostin Hristov
Copywriter: Maria Makedonska
Account Executive: Natalia Halacheva
Production Manager: Mihail Toshev
Media Manager: Gergana Petrova
Additional credits: IDEA Comm
Published: June 2014
The Outdoor Advert titled Making the invisible visible was done by All Channels Communication advertising agency for product: UNICEF Bulgaria (brand: Unicef (United Nations International Children's Emergency Fund)) in Bulgaria. It was released in the Jul 2014.