Zaps Cockroach Repellant: Only Invisible In Your Eyes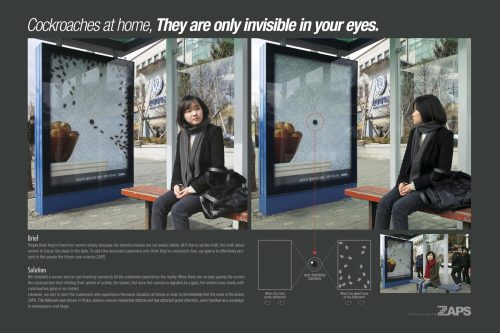 Brief: People think they're free from vermin simply because the harmful insects are not easily visible. BUT that is not the truth; the truth about vermin in house lies deep in the dark. To alert the deceived customers who think they're cockroach-tree, our goal is to effectively pre sent to the people the Home care science ZAPS.
Solution: We installed a screen and an eye-tracking camera to let the customers experience the reality. When there are no eyes gazing the screen the cockroaches start striding their sphere oi activity. the screen. But once the camera is signaled by a gaze. the screen tums blank with cockroaches gone in an instant. Likewise, we aim to alert the customers who experience the same situation at homes in order to immediately feel the need oi the brand, ZAPS. This Billboard was shown 'n 10 bus stations around residential districts and has attracted great attention, even handled as a campaign in newspapers and blogs.
Advertising Agency: Cheil Worldwide, Seoul, Korea
Chief Creative Officer: Joungrack Lee
Creative Director: Joungrack Lee
Copywriter: Sanghoon You
Art Director: Seongwook Han
Photographer: Kihong Kim
Art Buyer: Ansub Park
Producer: Open Eye