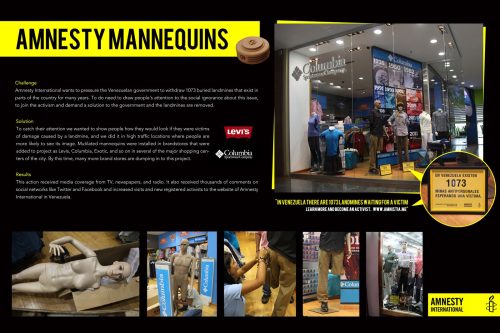 Advertiser: Amnesty International
Brand name: Amnesty International
Product: Amnesty International
Agency: Draftfcb Caracas
Country: Venezuela
Category: Public awareness
Released: April 2012
Credits & Description:
In Venezuela there are 1073 landmines waiting for a victim.
Advertising Agency: Draftfcb, Caracas, Venezuela
Creative Director: Exequiel Rodríguez
Art Director: Miriángela Villegas
Copywriter: Diogenes Méndez, Juan Delgado, Exequiel Rodríguez
Producer: Ciano González
The Ambient Advert titled Mannequins was done by Draftfcb Caracas advertising agency for product: Amnesty International (brand: Amnesty International) in Venezuela. It was released in the Apr 2012.