Norwegian Air Shuttle A/S: The Kilt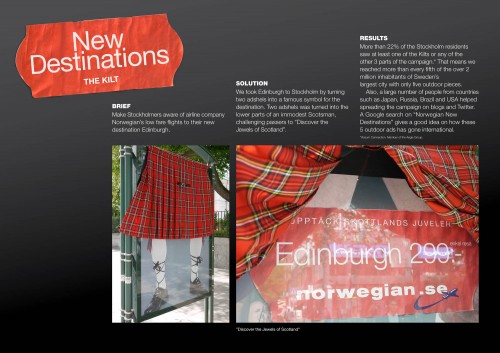 BRIEF
Make Stockholmers aware of airline company Norvvegian's Iow fare flights to their new destination Edinburgh.
SOLUTION
We took Edinburgh to Stockholm by turning two adshels into a famous symbol for the destination. Two adshels was turned into the Iovver pans of an immodest Scotsman, challenging bassers to "Discover the Jewels of Scotland".
RESULTS
More than 22% of the Stockholm residents saw at least one of the Kilts or any of the other 3 parts of the campaign. That means we reached more than every fifth of the over 2 million inhabitants of Sweden's largest city with only five outdoor pieces. Also, a large number of people from countries such as Japan, Russia, Brazil and USA helped spreading the campaign on blogs and Tvvitter. A Google search on "Norwegian New
Destinations" gives a good idea on how these 5 outdoor ads has gone international.
Advertising Agency: Volt AB, Sweden
Copywriter: Petter Nylind
Art Director: Karl Andersson
Retouch: Staffan Kjellvestad
Final Art: Åsa Stjärnquist
Account Director: Louise Wallgren